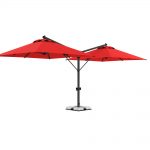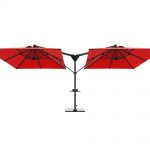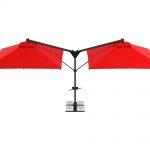 Double Side Pole Umbrella
Send a Message to Whatsapp / Send E-Mail / Call US
Our company is among the largest garden umbrella manufacturers in Turkey. Your umbrella orders will be shipped safely and quickly with the shipping option we work or you want. Please contact us for more information.
Description
Single Base , more shading. By its one base and double umbrellas opened to the sides, offers comfortable shaded areas. Aluminium structure , european made fabric and wheeled based assures no hassle usage.
It's a measure we're not used to see too much. 5m diameter 10-arm mega banana umbrella model. This model that is submitted with a rotary table leg as a standard and required balance is provided with extra weights. 10 arms provide extra resistance against the wind. It offers the most aesthetic solution to your needs with different color frame and fabric options.
Strong Umbrella… Our strong umbrella, which is among different umbrella models that you cannot see in the market, is an amazing product for individuals and institutions who want to shade large areas. Umbrellas placed on both sides of the T-shaped pole in the middle allow the shading of very large areas. Our product, which is an alternative of double-side tents for cafes and restaurants, is a permanent solution for the places requiring a smoking area. In accordance with the size of the space and the decor of the space, you can buy different sizes of products and it is possible to shade very large areas by putting them side by side.
Thanks to its 300 kg marble leg, sufficient balance and pressure is provided. Due to the shaft located on its frame, the strong umbrella, which can rotate 360 degrees around its own axis, is thus rotated without moving. Strong umbrellas can be opened independently from each other by means of 2 gear systems located in its middle pole. With this crank case and safety locking system, the umbrellas can be opened and closed very easily. Our ropes that are connected to the crank case are strong ropes resistant against heavy conditions that are used in yacht decks against ruptures.
Big umbrellas and Strong umbrellas that are manufactured as round, square and rectangular forms have the sizes of 3×3 and 3,5×3,5 meters for square forms, and 3×4 meters for rectangular forms.
70 x 70 x 2,5 mm pillar size and 20 x 30 x 2 mm umbrella arms are also thermally heat-processed, extra strengthened against corrosion, static painted like our other umbrella models. The frame and arms of the umbrella that are white colored as a standard, can be painted in different colors according to your special projects.
In addition to the domestic acrylic umbrella fabrics, Spanish umbrella fabrics can also be used in our big umbrellas and strong umbrellas. Spanish acrylic umbrella fabrics have a colorfastness for a longer period than domestic fabrics. Apart from our standard colors, that are cream, claret red and khaki green, we have different color options that are suitable for your concept or special projects. As in all our garden umbrella models, you can choose your big umbrellas and strong umbrellas as with or without eaves. Company name, brand name or logo can be printed on the umbrella eaves.
You can use our big umbrellas and strong umbrellas as restaurant umbrellas, cafe umbrellas, hotel umbrellas or garden umbrellas with your mind at peace for many years. These umbrellas are specially produced for your big umbrella needs.
Brand Umbrella House
Banana model double opening T-pillar umbrella
Our model can be produced in round, square or rectangular shapes.
Round umbrella has a diameter of 4 or 5 meters.
Square umbrella has a size of 3×3 or 3,5×3,5 meters.
Rectangular umbrella has a size of 3×4 meters.
It has a fixed marble leg with a weight of 300 kg
With a crank shaft, lock and rope system Substance/Mixture
2 arms that are located in the middle pillar are turned to open and close the umbrellas
Has an aesthetic, elegant and robust appearance
Can be prepared with or without eaves
Has the possibility to press on the models with eaves
According to your needs, domestic or Spanish imported umbrella fabrics are used
Produced at the factory of Şemsiye Evi
Guaranteed spare parts
Has strong plastic spare parts and connection elements
Has a thermally treated and reinforced aluminum umbrella arms and frame
Static painted with high corrosion resistance
Available in different colors of fabric and frame colors for your special projects
Can be sent anywhere over Turkey as assembled
Easy to install
Classic Double Side Pole Umbrella Video
Classic Double Side Pole Umbrella Dimensions
BANANA Double Side Pole Circular

Size : 300 cm
Tube : 70x70x2,5 mm
Ribs : 20x30x2 mm
BANANA Double Side Pole Circular


Size : 350 cm
Tube : 70x70x2,5 mm
Ribs : 20x30x2 mm
BANANA Double Side Pole Square


Size : 300×300 cm
Tube : 70x70x2,5 mm
Ribs : 20x30x2 mm
BANANA Double Side Pole Square


Size : 350×350 cm
Tube : 70x70x2,5 mm
Ribs : 20x30x2 mm
BANANA Double Side Pole Rectangular


Size : 300×400 cm
Tube : 70x70x2,5 mm
Ribs : 20x30x2 mm
Classic Double Side Pole Umbrella Photo Gallery