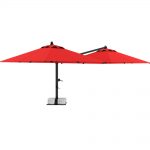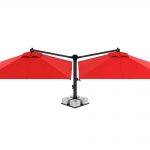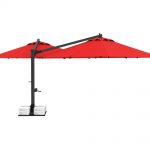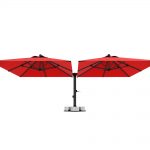 Double New Side Pole Umbrella
Send a Message to Whatsapp / Send E-Mail / Call US
Our company is among the largest garden umbrella manufacturers. Your umbrella orders will be shipped safely and quickly with the shipping option we work or you want. Please contact us for more information.
Description
Our Front-opening Double Banana is supported by alumunium central side pole creates extra spaces up to 3*6 meters. Central pole option offers free access to the sitting areas especially for restaurant and cafes. It can be combined with our other models for large irregular areas.
Being double-headed and having a single leg at the back, this mega big umbrella and strong umbrella can open the middle of two umbrellas completely and cover an area of 18 square meters or 36 square meters. Banana strong umbrella offers a useful, durable and aesthetic solution.
Banana Model Mega Big and Strong Umbrella is the largest and most useful model you can see in the industry. It is possible to shade an area of 18 m2 with two different umbrellas opening to the front according to the place to be used. Thanks to the back of the umbrella pillar, a wide area of use is present under the umbrella. This area provides comfort and convenience in every aspect. Furthermore, this model can be manufactured as 2 umbrellas in the front and 2 in the back. Thus, the shading area can be increased to 36 m2. The quality of your space will be maximum with our mega big umbrella which is a very aesthetic and flashy solution for large spaces. the largest one of our banana model umbrellas that we offer you with their robust pillars, umbrella arms, and aesthetic marble pillar, you can use our mega big umbrella with mind of peace for many years.
Features of Front double opening Garden Umbrella
• Brand Umbrella House
• Can be manufactured as 2 umbrellas in the front and 2 in the back
• The umbrellas are manufactured as square
• Square umbrella is manufactured as 3×3 meters
• Can be used by fixing its marble umbrella leg
• Opening and closing system with a mechanical arm
• Robust, different and elegant appearance
• Can be prepared with or without eaves
• Has the possibility to press on the models with eaves
• Domestic or Spanish imported umbrella fabrics
• Produced at the factory of Umbrella House
• Guaranteed spare parts
• Strong plastic spare parts and connection elements
• Has a thermally treated and reinforced aluminum umbrella arms and frame
• Different colors of frame options for your special projects
• Can be sent anywhere over Turkey
Front-opening Double New Side Pole Umbrella Video

Front-opening Double New Side Pole Umbrella Dimensions
Front-opening Double New Side Pole Umbrella 3X3


Size : 300 x 300 cm x 2
Tube : 100×100 mm
Ribs : 70×70 mm
Umbrella Ribs: 20 x 30 x 2 mm
Quadruble New Side Pole Umbrella 3X3


Size : 300 x 300 cm x 4
Tube : 100×100 mm
Ribs : 70×70 mm
Umbrella Ribs: 20 x 30 x 2 mm
Front-opening Double New Side Pole Umbrella Photo Gallery