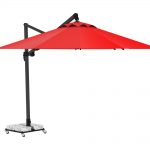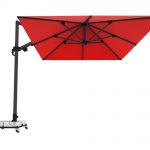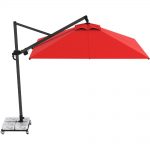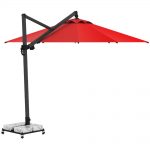 Side Pole Plus Umbrella
Our newest model Banana Plus adds impressive technology to side pole umbrellas, great operation and high-quality materials. It can be opened and closed easily by hand crank and the mechanism lock itself for security . The tilting option also enables customers to tilt the canopy on both sides until vertical 60 degrees. Can be easily opened and closed without disturbing sitting areas, getting attached to the pole after closing creates extra space for consumers.
Send a Message to Whatsapp / Send E-Mail / Call US
Our company is among the largest garden umbrella manufacturers in Turkey. Your umbrella orders will be shipped safely and quickly with the shipping option we work or you want. Please contact us for more information.
Description
Side Pole Plus Umbrella Dimension
BANANA Side Pole Plus Umbrella
Size : 300 x 300 cm
Tube : 70x70x2.5mm
Ribs : 20x30x2 mm
BANANA Side Pole Plus Umbrella
Size : 300×400 cm
Tube : 70x70x2.5mm
Ribs : 20x30x2 mm
BANANA Side Pole Plus Umbrella
Size : 300/8 cm
Tube : 70x70x2.5mm
Ribs : 20x30x2 mm
Side Pole Plus Umbrella Video
Side Pole Plus Umbrella Photo Gallery
Brand Şemsiye Evi
Side-Pillar Plus Umbrella
Manufactured as a square umbrella
Manufactured with 4 arms as square with the sizes of 2×2 meters and 3×3 meters
It is possible to use with different umbrella legs
Opening and closing the umbrella with the rope roller system
Different and elegant appearance
Can be prepared with or without eaves
Has the possibility to press on the models with eaves
Domestic or Spanish imported umbrella fabrics
Manufactured at the factory of Şemsiye Evi
Guaranteed spare parts
Strong plastic spare parts and connection elements
Has a thermally treated and reinforced aluminum umbrella arm and frame
Different colors of frame options for your special projects
Can be sent anywhere over Turkey