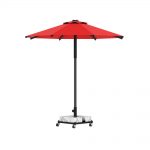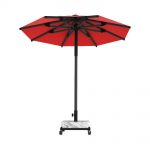 Avocado Clips Circular 8 Ribs Umbrella
Send a Message to Whatsapp / Send E-Mail / Call US
Our company is among the largest garden umbrella manufacturers in Turkey. Your umbrella orders will be shipped safely and quickly with the shipping option we work or you want. Please contact us for more information.
Description
Our design, which provides aesthetics and ease of use in 2 different sizes, is liked by the users. It adds value to the visuality of your place with the preference of our round model with or without eaves. Its basic structure, easy opening and closing makes the outdoor umbrella unique at these sizes.
Our outdoor umbrellas have an aesthetic and elegant appearance, and you can prefer them in the garden, terrace and balconies due to its ease of opening and closing system. It has 2 different options with a diameter of 2.5 meters and a diameter of 3 meters depending on the place where it will be used. Apart from the domestic acrylic umbrella fabrics, you can prefer jute fabric or umbrella fabrics that are imported from Europe. The umbrella you want to buy can be manufactured with or without eaves depending on your request. In addition, our outdoor umbrellas which can be used in special projects that are suitable for the colors of the area to be used are suitable for your outdoor umbrella needs for many reasons.
As in our other models, aluminum umbrella body and umbrella arms that are extra reinforced against corrosion and that are exposed to thermal treatment, are used. Plastic umbrella parts are manufactured with our injection molding machines in our own factory and they are exposed to many durability tests.
Thanks to its clips system, opening and closing the umbrella is much more practical and easier than roller systems. They are suitable for outdoor uses. You can use them as garden, pool, restaurant, cafe, terrace, hotel, beach umbrellas with mind at peace. It offers an aesthetic solution and adds richness to the area you want to shade. Thanks to the imported Spanish umbrella fabric, it will help you to be protected from the harmful rays of the sun. You can use it with mind at peace for many years thanks to its service facility and spare parts supply at our factory.
Brand Umbrella House
Avocado clips model round umbrella
Manufactured as round with 8 arms
Manufactured with a diameter of 2.5 mt, 3 mt and 3.5 mt round or 2×2 mt, 2.5×2.5 and 3x3mt Square
70 liters of can, 70 liters of concrete, 70 kg of luxury marble legs can be used
Easy opening and closing via the clips system
Aesthetic appearance can be prepared with or without eaves
Has the possibility to press on the models with eaves
Domestic or Spanish imported umbrella fabrics
Manufactured at the factory of Umbrella House
Guaranteed spare parts
Strong plastic spare parts and connection elements
Has a thermally treated and reinforced aluminum umbrella arm and frame
Different colors of frame options for your special projects
Can be sent anywhere over Turkey
Avocado Clips Model 8 Ribs Umbrella Video
Avocado Clips Model 8 Ribs Umbrella Dimensions
Avocado Clips ROUND Umbrella 250cm / 8-arms
Size of the umbrella: 250 cm diameter
Size of the side pillar: 50 x 2 mm
Umbrella arms: 20 x 30 x 2 mm
Avocado Clips ROUND Umbrella 300cm / 8-Arms

Size of the umbrella: 300 cm diameter
Size of the side pillar: 50 x 2 mm
Umbrella arms: 20 x 30 x 2 mm
Avocado Clips ROUND Umbrella 350cm / 8-Arms

Size of the umbrella: 350 cm diameter
Size of the side pillar: 50 x 2 mm
Umbrella arms: 20 x 30 x 2 mm
Avocado Clips SQUARE Umbrella 2×2 mt / 8-Arms

Size of the umbrella: 200×200 cm
Size of the side pillar: 50 x 2 mm
Umbrella arms: 20 x 30 x 2 mm
Avocado Clips SQUARE Umbrella 2.5×2.5 mt / 8-Arms

Size of the umbrella: 250×250 cm
Size of the side pillar: 50 x 2 mm
Umbrella arms: 20 x 30 x 2 mm
Avocado Clips SQUARE Umbrella 3×3 mt / 8-Arms
Size of the umbrella: 300×300 cm
Size of the side pillar: 50 x 2 mm
Umbrella arms: 20 x 30 x 2 mm
Avocado Clips Model 8 Ribs Umbrella Photo Gallery