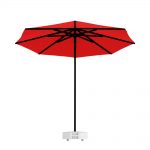 Kiwi Classic Beach Umbrella
Our "Kiwi" is the top leading product within its own group , its arms and body are made of first quality alumunium . High durability of plastic components extends its lifespan. Right base selection is highly essential for long term performance. Depending on usage areas and locations , polyester , acrylic jut or olefine fabrics can be applied.
Send a Message to Whatsapp / Send E-Mail / Call US
Our company is among the largest garden umbrella manufacturers in Turkey. Your umbrella orders will be shipped safely and quickly with the shipping option we work or you want. Please contact us for more information.
Description
KIWI Model 8 Rips Umbrella Dimensions
KIWI Circular 200/8
Size : 200 cm
Tube : 35×2 mm
Ribs : 12x18x1 mm
KIWI Circular 250/8
Size : 250 cm
Tube : 35×2 mm
Ribs : 12x18x1 mm
KIWI Model 8 Rips Umbrella Video
KIWI Model 8 Rips Umbrella Photo Gallery
Our beach umbrella which is one of the leading products in its group has a first-class aluminum arm and frame structure. Plastic components with high-strength extend the life of your umbrella. In parallel, the selection of the right leg is also very important. The fabrics chosen according to the place of use and the location to be used may be polyester, olefin, acrylic jute fabrics.
Beach umbrellas are usually seasonal products and they become unusable at the end of a summer season and are thrown away. Especially if you want to repair the beach umbrellas of Far East origin sold in hypermarkets, no repairman can be found, if found, spare parts cannot be provided and fabrics can not be changed. These beach umbrellas that are sold as cheap, have thin-wired umbrella arms like hand umbrellas. Thin wires cause the umbrella to turn upside down in the first wind and the cheap and poor quality nylon fabrics do not let the air get in and cause such a temperature that no one can stay under the umbrella. Although it is preferred by many people because of being economic, the most important factor to remember is that these beach umbrellas should protect you from harmful sunlight. While the beach umbrellas used at the beach and the pools need to protect people from the harmful rays of the sun, unfortunately cheap and poor quality beach umbrellas show just the opposite. Beach umbrellas should both have a sun protection and also have easy and comfortable installation.
Considering all of these, we have produced our kiwi model beach umbrellas, which are a very special type of product, that you can use for many years, not only for only one season, but also for many years. With its robust aluminum umbrella frame and arms, strong connection equipment, our kiwi model umbrellas can be called as the best in its class and are a long-lasting and practical umbrella model. Our product that is produced in two different shapes as round and square, provide you to entertain from your breaks during your beach or pool leisure. Our Kiwi model beach umbrellas use polyester, olefin, acrylic and jute umbrella fabrics which are breathable and resistant to sunlight (UV).
High-class beach umbrellas have to be more robust than the normal garden umbrellas when their usage areas and frequency of use are considered. For example, garden umbrellas or restaurant umbrellas are usually fixed on grass or concrete, while beach umbrellas are subject to sand, wind and salty, moist sea air. Therefore, the connecting equipment, fabric and metal parts used should withstand these extreme conditions. Our kiwi model beach umbrellas that we produce with this awareness are used at the beach sides and pools of many hotels due to their robustness and aesthetic appearance. Our umbrellas which are used for many years against dense and continuous use, sudden winds, humid and salty weather conditions by the pool and beach sides are the first choice of hundreds of hotels, pensions and holiday villages in our country.
Kiwi model beach umbrellas have 4 types according to their opening and closing systems and shapes. Apart from our Kiwi 8-arm models with a valve system, there are 4 types as clip-system beach umbrella, kiwi luxury beach umbrella with its different appearance and our latest model bat beach umbrella.
Brand Şemsiye Evi
Kiwi Model 8-Arm Beach Umbrella
Manufactured as round and square
Round umbrella is manufactured with a diameter of 2 mt and 2.5 mt
Square umbrella is manufactured with a size of 2×2 mt
Compatible with plastic can or wheeled metal legs
Easy opening and closing via the valve system
UV-resistant high polyester, olefin, acrylic jut fabrics can be used
Has an aesthetic appearance
Special projects can be done other than standard production colors
Can be prepared with or without eaves upon request
Has the possibility to make pressing on the umbrella
Produced at the factory of Şemsiye Evi
Guaranteed spare parts
Assembled with strong connection equipment
Has a reinforced aluminum umbrella arm and frame
Umbrella arms and frame are thermally heat-processed and static painted
Has strong resistance against corrosion
Can be used as an hotel umbrella, balcony umbrella, terrace umbrella
Can be used as a beach umbrella at the pool or seaside
Can be sent anywhere over Turkey as assembled