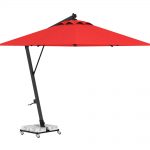 Side Pole Mega Umbrella
Mega Banana model has unusal size with a 5 meter range and 10 arms. Spinnable base is a standart feature in this model, adding additional weight to base , balance is ensured. Its 10 arms provides extra resistance to wind. Different colors of structure and fabrics are available to offer you the best stylish version.
Send a Message to Whatsapp / Send E-Mail / Call US
Our company is among the largest garden umbrella manufacturers in Turkey. Your umbrella orders will be shipped safely and quickly with the shipping option we work or you want. Please contact us for more information.
Description
MEGA BANANA Model Side Pole Umbrella Dimensions
BANANA Side Pole Mega Circular 10 Rips
Size : 500 cm
Tube : 70x70x3 mm (Steel Pipe)
Ribs : 20x30x2 mm
MEGA BANANA Model Side Pole Umbrella Video
MEGA BANANA Model Side Pole Umbrella Photos
It's a measure we're not used to see too much. 5m diameter 10-arm strong umbrella. This model that is submitted with a rotary table and a 320 kg marble leg as a standard and required balance is provided with extra weights. 10 arms provide extra resistance against the wind. It offers the most aesthetic solution to your needs with different color frame and fabric options.
Among our biggest model of our side-pole umbrellas, the strong umbrellas with the exception of the size of the 10-arm umbrella model is a salient umbrella. Unlike our other umbrellas, 10 arms allow you to use this strong umbrella in windy areas with mind at peace. The side-pole strong umbrella allows you to fully benefit from the area under the umbrella. Apart from its aesthetic appearance, you use our strong umbrella model with a rigid standing for many years at the gardens, terrace, restaurant, cafe, hotel, etc. Since the rotating table in the leg section of the umbrella can also rotate 360 degrees on its axis, and it is possible to change the direction of the umbrella easily.
The 70x70x3 mm steel frame and 20x30x2 mm steel umbrella arms (10 Arms) make the product an extra strong umbrella model. As in our other models, the thermally heat-processed umbrella frames and umbrella arms have increased the corrosion resistance to maximum.
Our strong umbrella, which can be produced as 4 meters and 5 meters in diameter, is among the models that are preferred frequently besides the garden umbrellas in restaurants and cafes. In addition to our standard production colors, umbrella fabric and umbrella frames of different colors can be produced according to your special projects and applications. As in our other umbrella models, you can prefer this model of strong umbrella without side eaves. As the umbrella fabric, you can also choose Spanish acrylic umbrella fabrics imported from Europe, which has almost 10 years of color fastness, and you can also prefer domestic production acrylic umbrella fabric.
If you are looking for a strong, aesthetic and large size umbrella, our strong umbrella is the right choice for you and you can use it with mind at peace for many years.
Features of Side-Pillar Mega 10-Arms umbrella
• Brand Şemsiye Evi
• Banana model side-pillar umbrella
• The umbrella is manufactured as round.
• Manufactured as round with a diameter of 3 mt, 3.5 mt and 4 mt
• Marble leg with a wheel and brake
• With a crank shaft, lock and rope system
• Opening and closing the umbrella by rotating the arm on the side pillar
• Aesthetic appearance
• Can be prepared with or without eaves
• Has the possibility to press on the models with eaves
• Domestic or Spanish imported umbrella fabrics
• Produced at the factory of Şemsiye Evi
• Guaranteed spare parts
• Strong plastic spare parts and connection elements
• Has a thermally treated and reinforced aluminum umbrella arm and frame
• Different colors of frame options for your special projects
• Can be sent anywhere over Turkey as assembled