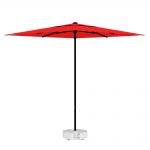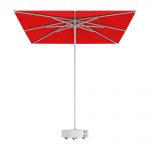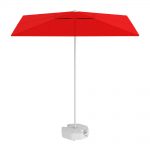 Kiwi Clips Model 8 Rips Umbrella
This model is the top quality alternative of the beach umbrellas. Kiwi clips manufactured either fimbriated or non fimbriated are used in many hotel and beach projects with facing no issue. Kiwi is clips one of bestselling model that can be placed into top of two sunbeds , its table might be used optionally.
Send a Message to Whatsapp / Send E-Mail / Call US
Our company is among the largest garden umbrella manufacturers in Turkey. Your umbrella orders will be shipped safely and quickly with the shipping option we work or you want. Please contact us for more information.
Description
KIWI CLIPS Model 8 Rips Umbrella Dimensions
KIWI CLIPS Circular 200/8
Size : 200 cm
Tube : 35×2 mm
Ribs : 12x18x1 mm
KIWI CLIPS Circular 250/8
Size : 250 cm
Tube : 35×2 mm
Ribs : 12x18x1 mm
KIWI Square 200×200/8
Size : 200×200 cm
Tube : 35×2 mm
Ribs : 12x18x1 mm
KIWI CLIPS Model 8 Rips Umbrella Video
KIWI CLIPS Model 8 Rips Umbrella Photo Gallery
Kiwi Clips 8-Arms Beach Umbrella
This is the most luxurious alternative of beach umbrellas. The model, which is produced with and without eaves, is used in many hotels and beaches without any problems. This product is among our locomotive products that you can easily put besides two sunbeds, and you can the middle table that you can place optionally.
Kiwi model clips beach umbrella is a luxurious alternative that is rarely seen in beach umbrellas. It is more than an umbrella with its aesthetic and elegant appearance, ease of opening and closing system, robustness and extra features such as a middle table and a safe. It can be used with a luxury wheeled metal leg, wheeled concrete leg or plastic umbrella can. In addition to domestic or imported acrylic, polyester and jute fabric options that can be used according to customer requirements, it can be manufactured with or without eaves.
Our clips beach umbrella, which is the first choice of the hotels in many hotel projects, is among the locomotive products of our company. Apart from the sunbeds around the pool, hotels and resorts prefer our products besides the sunbeds on the beach. The durability of the aluminum frame and the plastic connection equipment provides comfortable use at the beaches.
Our kiwi clips beach umbrella is the only product preferred by end users especially for their terraces and balconies.
The umbrellas can be manufactured as round and square, and the round one is produced in 2 models with the diameters of 200 cm and 250 cm, and our square model is produced with a size of 200 x 200 cm. These sizes are quite sufficient for 2 sunbeds. If you are looking for a durable and luxurious umbrella that can be used at the pool, beach, garden, balcony or terrace, our kiwi clip model 8-arm umbrella is the right choice for you…
The clips system used in the beach umbrellas works with a similar logic with the hand umbrellas. Different from the hand umbrellas, the strength used for opening and closing the umbrella comes from the tension of the umbrella fabric. Open the umbrella by pushing the plastic frame in the middle pipe upwards. After passing a specific point, the strength applied to the plastic frame takes over the flexibility of the umbrella fabric and remains fully open. The plastic frame in the middle side is pulled down and the umbrella is closed.
Brand Şemsiye Evi
Kiwi model clips beach umbrella
Manufactured as round and square
Round one is manufactured as 200 cm and 250 cm.
Square one has a size of 200×200 cm.
Can be used with a wheeled metal leg, wheeled concrete leg or a plastic umbrella can
Easily opening and closing via its clips system
Has 8 arms
Aesthetic and robust appearance
Possibility to prepare with or without eaves upon the request of the customer
Has the possibility to make pressing on the umbrella fabric
Acrylic umbrella fabric, jute fabric, polyester or olefin fabric options
Produced at the factory of Şemsiye Evi
Guaranteed spare parts
Strong plastic spare parts and connection elements
Has a thermally treated and reinforced aluminum umbrella arm and frame
Different colors of frame options for your special projects
Can be sent anywhere over Turkey