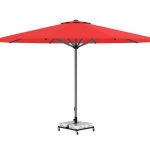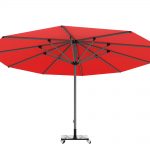 10 Rips Circular Mango Umbrella
Mango umbrella departs from other models with its unique arms , all three types are made of thick pipes . It has the highest durability among corded with roller systems , it also very succesful because of its price – durability – esthetic performance in 5 meter diameters range.
Send a Message to Whatsapp / Send E-Mail / Call US
Our company is among the largest garden umbrella manufacturers. Your umbrella orders will be shipped safely and quickly with the shipping option we work or you want. Please contact us for more information.
Description
MANGO Model 10 Rips Umbrella Dimensions
Mango Circular 500 cm
Size : 500 cm
Tube : 70x3mm
Ribs : 20x30x2mm
MANGO Model 10 Rips Umbrella Video
MANGO Model 10 Rips Umbrella Photo Gallery
MANGO 10-Arm Garden Umbrella
The round model of our Mango garden umbrella, which is distinguished from other types of umbrellas with its feature of having 10 arms, is produced with a thick middle pipe. It is the most durable model of the rope roller system. Especially the umbrella-price performance with a diameter of 5mt is very successful in terms of strength and aesthetics.
Among the alternatives of the Mango garden umbrella, there is also a 5 mt round domestic fabric model. Mango garden umbrella with a 70 x 3 mm aluminum frame 20 x 30 x 2 mm high strength that is strengthened with thick arms, has 190gr umbrella fabric or imported Spanish umbrella fabric. Mango garden umbrella model can be preferred in areas such as gardens and restaurants. In addition, thanks to its 10 arms, it will allow you to use the umbrella under extreme weather conditions.
Garden umbrella rope roller system is used. This system is the system that provides opening and closing of the umbrella arms with the rope pulled by the reel system placed on the aluminum main frame.
10 arms of the mango model garden umbrella provides extra strength in terms of robustness. Thus, you can use our mango model garden umbrella under windy regions with mind at peace like our other 10-Arm umbrella.
Features of MANGO Model 10-arm Umbrella
Brand Şemsiye Evi
Mango model mid-pillar umbrella
The umbrella is manufactured as round.
Round type is manufactured with a diameter of 3 mt
Marble leg with a wheel and brake
Aesthetic appearance
Can be prepared with or without eaves
Has the possibility to press on the models with eaves
Domestic or Spanish imported umbrella fabrics
Produced at the factory of Şemsiye Evi
Guaranteed spare parts
Strong plastic spare parts and connection elements
Has a thermally treated and reinforced aluminum umbrella arm and frame
Different colors of frame options for your special projects