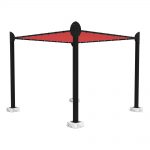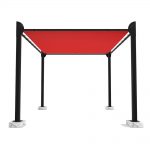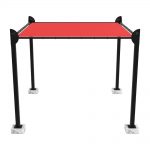 Classic Gazebo
Our classic butterfly gazebo is esthetic solution to our customers don't intend to have expensive structures and can't wait for long leading times. It brings you the full aspect of shade by its distinctive visuality. It is totally user friendly , does not require any additional assembling besides its marble base. It can be used even in windy circumstances with jut fabric with holes.
Description
CLASSIC GAZEBO SUNSHADE
Bat sunshade provides visually aesthetical view to the shade environments of 4mx4m dimensions which is the patented product of Umbrella House and bat sunshade has a gazebo asymmetric structure. Bat sunshade exhibits a rich stance in architectural design. It can be used in gardens, cafes and terraces. It can be easily assembled and disassembled. Technical specifications of the bat sunshade include metal connection equipment
Classic Gazebo Tent Dimensions
Dimensions: 300 cm x 300 cm
Aluminum leg pole: 100 x 100 x 2 mm
Steel horizontal pole : 40 x 40 x 2 mm
Dimensions: 400 cm x 400 cm
Aluminum leg pole: 100 x 100 x 2 mm
Steel horizontal pole : 40 x 40 x 2 mm
Dimensions: 500 cm x 500 cm
Aluminum leg pole: 100 x 100 x 2 mm
Steel horizontal pole : 40 x 40 x 2 mm
Connector : Metal
Fabric : Polyester – Jut Fabric
Classic Gazebo Tent Photo Gallery
Classic Gazebo Tent Video
It adds an aesthetic richness to the space with its architectural design and asymmetrical structure. You can use them at the areas where you want to shade such as gardens, pools, restaurants, cafes, terraces, hotels, beaches. Assembly and disassembly are easy. Required keys are sent together with the product. Thanks to its hassle-free service and spare parts warranty, you can use it for many years. Connection equipment are steel and body pillars are reinforced aluminum. 100 mm x 100 mm strengthened aluminum frame pillars are used. It can be used without fixing the legs of the umbrella.
Patio umbrellas are the products that are continued to be manufactured at Şemsiye Evi and that has an aesthetic form due to its asymmetric structure. It can be used in many areas, including gardens, cafes and terraces. Assembly and its disassembly of the patio umbrellas are very easy. Size of the patio umbrella that is one of the patented products of Şemsiye Evi is 4mx4m.
The most aesthetic solution for those who cannot tolerate expensive constructions and long production times. Patio umbrellas offers the most natural form of shade with its visual structure resembling architectural membrane structures, robust construction and different color and fabric options. The product is completely user-friendly with its perforated jute fabric that can be even used in windy areas, its marble leg and no extra assembly works. Patio umbrella is the patented product of Şemsiye Evi. It offers a visually aesthetic view in the shading environments with its size of 4mt x 4mt. Our product, which has a rich appearance in terms of architectural design, can be used in places such as gardens, cafes, restaurants and terraces. Easy assembly and installation is an extra feature of our product.